The officiating crew from that Saturday night Los Angeles Lakers-Boston Celtics matchup was let off the hook by the NFL playoffs. Chris Jones disrupted the Cincinnati Bengals far more than any mistakes from the officials on Sunday night, but any added difficulty is always burdensome when dealing with the Kansas City Chiefs.
When NBA referee social media sent out that refs make mistakes, too tweet on Sunday afternoon, the post was rightfully clowned. Of course all humans make mistakes. However, when large ones happen at work those shouldn't be explained away by tweeting out, "John Q. Public, you all screw up too."
The Chiefs – Bengals refs were worse
Fortunately for the NBA, their Saturday shortcomings were eclipsed during the 6:30 p.m. EST NFL Conference Championship Game. Those referees made a glaring error in front of many more millions of people.
During an early fourth quarter drive there had been some problems with the clock. Lead official Ron Tolbert had already explained a clock issue when one of the strangest moments in NFL history took place. A referee in the secondary was trying to blow a Chiefs third-down play dead before it started. No one noticed and the Chiefs got stopped, but they were eventually allowed to replay the down.
G/O Media may get a commission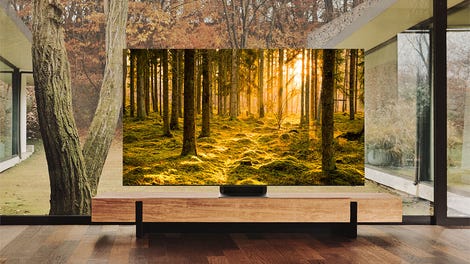 Up to 40% off
Samsung Smart TVs
Vivid colors and deep blacks
It's Oscar season which means it's time to binge all the nominations before the big day. Why not enjoy these pieces of art on a new TV from our friends at Samsung?
The Chiefs got a whole second-chance at 3rd and 9, and ended up converting. If Patrick Mahomes had two healthy legs and his normal crew of pass catchers the Chiefs probably would have at least scored off of a field-goal attempt.
Instead the Chiefs punted, but their defense was far from done with Joe Burrow and the Bengals' offense. They intercepted Burrow, giving their offense the ball deep in their own territory. Then, while on defense, the Bengals got hosed again. Mike Hilton was called for a ticky-tac pass interference penalty that extended the Chiefs' drive.
That penalty was another one that Chiefs weren't able to take advantage of, but the extra time they had with the ball could have meant a world of difference to the Bengals. With more time, maybe Burrow doesn't commit that disastrous intentional grounding penalty. Another questionable flag because the ball appeared to be intended for Samaje Perine, but Burrow didn't get the ball to the line of scrimmage. The referees deserve the benefit of the doubt on that one.
All of these consequential plays in a win-or-go-home NFL playoff game, it can be easily forgotten that NBA referees cost the Lakers a road win that they desperately needed on national television the night before.
Refs cost the Lakers a win, too
Darvin Ham had to use his challenge on a defensive foul that was called against Anthony Davis when Jayson Tatum had clearly initiated the contact. However, with that challenge used up, Davis was called for an unjust foul later that stuck. And then came the big one.
LeBron James got to the basket for a game-winning layup, and missed it because his lead arm was struck by Tatum. If the foul is called, James attempts two free throws with less than one second remaining in the game. The Lakers ended up losing in overtime, and fell to four games under .500 on the season.
That mistake was so bad that the referees were forced to admit it, but most American sports fans have already forgotten about that play. Ask most sports fans with no connection to Southern California about poor officiating, and they'll respond something along the lines of, "how did the Chiefs get a whole extra play?"




Original source here

#NFL #Americas #popular #sport #worked #NBAs #advantage