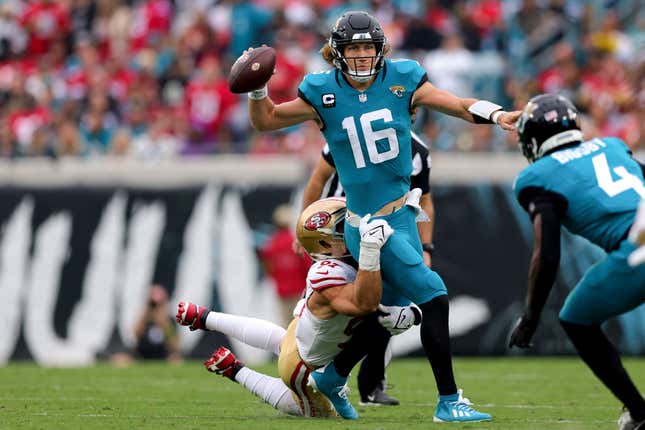 Week 10 represented a tremendous opportunity for the Jacksonville Jaguars to show the NFL they were ready to be inserted into conversations with the big dogs in the league. Instead, they got steamrolled at home by the San Francisco 49ers, 34-3. This was an embarrassing loss, but it also had significant implications within the AFC South since the Houston Texans improved to 5-4 and sit one game behind the Jags.
The season might already be over for these two
Jacksonville was on a five-game winning streak and looking like they were ready to take that next step up to that elite level among NFL teams. The Jags and Niners were both coming off a bye, so there was a lot of expectation around this meeting. Contenders from each conference matched up after a week off, and some (me, for one), even thought this should've been the Thursday night game. Oh, how wrong we were.
Now, the Jags must regroup and prepare for Tennessee and Houston. The Jags should be able to take care of the Titans at home and would want to with their lead over the Texans down to a game. Houston already holds a victory over Jacksonville and will have a chance to sweep the season series in Week 12.
This outing against San Francisco is a bad look on the Jaguars' season resume. This was supposed to be one of the better games of Week 10, and it ended up being a dud. SF got back on track while knocking Jacksonville so far off it could be tough for them to recover for Houston in two weeks.
Nothing seemed to go right for Jacksonville on Sunday, and the one player who had a decent day was Christian Kirk, catching six passes for 104 yards. But it's hard to get excited about anyone's production when that only amounts to three points on the scoreboard. The Jaguars are still 6-3 in the grand scheme, but this loss has people feeling like they might not be ready to make the jump to elite status just yet.
The AFC South was supposed to be a cakewalk for Jacksonville and now they have the Texans to worry about. All Jacksonville can do now is learn from what they did wrong Sunday, which was mostly everything, and move forward to get ready for these next two division matchups. After winning five in a row prior to facing the Niners, now is not the time to go on a long skid in the loss column. 


Original source here

#Jacksonville #isnt #ready #join #NFLs #elite