What was built up to be a mega clash between the two toughest teams in the NFC turned into a dud before halftime. The 49ers couldn't make it out of the first quarter against the Eagles before Brock Purdy left the game with an elbow injury. Josh Johnson filled in to finish the first half before going down with what looked like a possible concussion in the third quarter. Once Purdy came back in for Johnson, and it was clear he couldn't throw, all hope was lost for San Francisco.
San Francisco's quarterback situation in Sunday's NFC title game is a microcosm of this season and Kyle Shanahan's tenure as Niners head coach. It's been QB musical chairs in the bay area since Shanahan arrived in 2017. As a franchise, they've built almost every aspect of the team to an elite level except for the QB position.
What hurts Niner fans most is not having an elite QB. No one has control over injuries, but something has to give when your QBs continue to suffer injury after injury. San Francisco had a chance to bring Tom Brady home to the Bay Area a couple of years ago and opted to stick with Jimmy Garoppolo. To Jimmy G's credit, he's been very good for the 49ers, but he's constantly hurt like he was for the second half of this season. On the other hand, Brady hardly ever gets touched (until recently), which is an upgrade. Besides, Brady still had something left in the tank at that time.
Unlucky at Quarterback
The 49ers cycled through four QBs this year, starting with Trey Lance, who went down in Week 2. Garoppolo jumped in and helped the Niners get on track before he was knocked out in Week 13. Since then, rookie Brock Purdy has defied the odds of being Mr. Irrelevant to become one of the best feel-good stories of the '22 campaign. But Purdy wasn't exempt from the SF injury bug either on Sunday, which spelled disaster in the end.
G/O Media may get a commission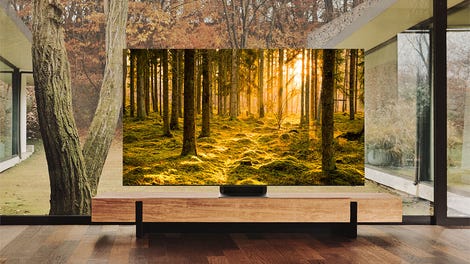 Up to 40% off
Samsung Smart TVs
Vivid colors and deep blacks
It's Oscar season which means it's time to binge all the nominations before the big day. Why not enjoy these pieces of art on a new TV from our friends at Samsung?
Shanahan has adopted the philosophy of the QB not being as crucial to the team's success. It's been a plug-and-play style system for the 49ers, and it continues to bite them in the ass. Again, you can't game plan against injuries, but it might be time to move on when the same guys get hurt year after year.
This Niners squad has been built to win for four years, and each time, it comes down to their QB. He either can't finish the deal or gets hurt no matter who it's been. They've participated in three of the last four NFC championship games and only advanced to the Super Bowl once. And when they made it to the big game a few years ago against Kansas City, Jimmy G's inability to complete passes late in that game contributed heavily to them squandering a 10-point fourth-quarter lead.
While it was another great year for San Francisco, they've fallen short again because of their QB situation. Six years under Shanahan has produced one of the NFL's better defenses and running games. But he's got to get this team over the hump at a certain point. Shanahan and general manager John Lynch need to nail down a QB that can finish a season. The Niners have had the worst collective luck at QB in the entire league over the past few years. A coach can only survive on the cusp of winning for so long. If something doesn't change soon, Shanahan may be sent on his way.


Original source here

#NFC #Championship #position #Kyle #Shanahans #49ers