On Tuesday, San Francisco 49ers defensive coordinator DeMeco Ryans visited with his former team, the Houston Texans, to discuss their vacant head coaching position. According to NFL insiders, Ryans is expected to be hired by the Texans, making him their third coach in three years.
Updated: Jan. 31, 2023, at 5:00 p.m.: The Houston Texans have hired Ryans.
Ryans isn't only their third head coach in as many seasons, but Houston became the first franchise to hire three Black head coaches consecutively. That's historic for many reasons — though not all of them are good.
Another part of the DeMeco Ryans' journey to becoming a head coach that will likely be glossed over is that he reportedly passed on the Denver Broncos. Woody Paige of the Denver Gazette and ESPN's Around The Horn tweeted on Monday that Ryans pulled his name from the Broncos coaching search, telling the organization he wasn't interested.
G/O Media may get a commission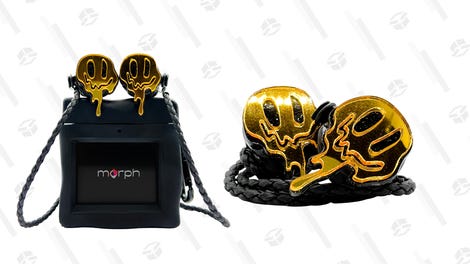 morph audio
Morph Earphones
SWAPPABLE FACEPLATES
Each set of Morph Earphones is crafted as a wearable street fashion accessory, as they come with swappable faceplates that you can switch out to change up your look at will. Choose from everything from trippy smileys to sakura blossoms and much, much more.
That statement is interesting because the Broncos have a defense ready for Ryans to hit the ground running. Knowing the situation and the team Ryans rejected Denver in favor of, the question must be asked. Has it gotten that bad in Bronco country already regarding Russell Wilson? Paige didn't specify why Ryans turned down Denver, but after two notable offensive coaches — Sean Payton, and Jim Harbaugh — interviewed but didn't come away with a deal, it feels like the Broncos brand has been sullied.
Updated: Jan. 31, 2023, at 5:00 p.m.: The Broncos have finalized compensation for Sean Payton, clearing the way for the ex-Saints HC to sign with them.
It appears the Broncos made another overture to Ryans before hiring Sean Payton.
Houston, I'm home
If Payton and Harbaugh passed on a future Hall of Fame quarterback (even after one down year), maybe Ryans saw the writing on the wall and decided it'd be best to go back home to Houston. The former Pro Bowl linebacker was a star in Houston for six of his 10 years in the NFL. He's still the franchise's all-time leader in tackles. So, we can understand the nostalgic aura of Ryans coaching, where he experienced the most success on the field.
Houston hasn't exactly had the most patience with coaches lately. Two, the past two seasons. Both just happened to be Black coaches. One (Lovie Smith) has a long history in the NFL and even led the Chicago Bears to a Super Bowl appearance. But Smith wasn't allowed to build this team like David Culley wasn't the previous year.
The fact that any Black coach would consider the Texans a viable option is mind-boggling. But that's where the NFL's situation with Black head coaches has gone. Many times, the only options are the worst situations in the league. This one is a little different because the Broncos have been a much better organization than the Texans, with a history of winning (albeit under different ownership) and an established culture. Despite new ownership and Wilson's struggles, passing on Denver for Houston feels weird. Especially for a Black coach after his predecessors were both shown the door after just one season. Although, it could be a familiarity with the Texans franchise and the culture around Houston. Whatever the case, it seems odd.
Things may be different for Ryans leading his old team. Former Texans coach Wade Phillips believes so, and spoke glowingly about the prospect of Ryans taking the job in Houston. It's possible since he did play for the team and had his best years in Houston, where he still has many connections. That doesn't change the fact that, more often than not, Black head coaches get shafted by these NFL franchises. No team is more guilty of this lately than the Texans. After the way things ended with the last two coaches, it's hard to fathom them luring another African American coach to run this team. But here we are.


Original source here

#coach #Black #candidate #DeMeco #Ryans #Houston #Texans #job #Updated