Another Super Bowl is in the books, and the Kansas City Chiefs are champions of the NFL once again. Patrick Mahomes wins his second ring, second Super Bowl MVP, on top of being named league MVP for the second a few days before the big game. Mahomes played a great game, especially in the second half, and earned every accolade he's attained this season. But if we're keeping it real, those hogs up front protecting Mahomes made the biggest difference.
Kansas City's O-line more than neutralized the vaunted Philly pass rush. They shut 'em down. The Eagles defensive line barely laid a finger on Mahomes and, during the second half, rarely got close enough to breathe on him. In general, the Chiefs played a relatively clean game offensively, and the o-line made up for their underwhelming performance two years ago in that blowout against Tampa Bay in Super Bowl LV.
The O-line kept Mahomes mostly upright
This year the Chiefs' line didn't allow Mahomes to be sacked one time. Against the Bucs, he went down three times and was on the run all night in the 31-9 loss. KC played a pretty buttoned-up game against Philadelphia, only being flagged three times in this game compared to 11 penalties against the Bucs.
G/O Media may get a commission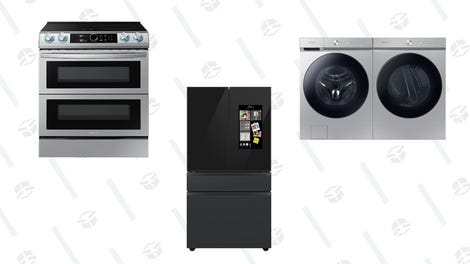 BUNDLE AND SAVE
Samsung Presidents Day Appliance Sale
Save on refrigerators, washers and dryers, and more
The Samsung Presidents Day Sale event features price cuts and promotions on refrigerators, washers and dryers, vacuums, and much more. Unsure which pieces are worth your time? We've got a great selection here to choose from so you can pick up what best speaks to you before the sale ends on March 1.
The Chiefs had a much more balanced attack in this Super Bowl, with Mahomes attempting 27 passes. Against the Bucs, Mahomes dropped back and passed 49 times. Not including Mahomes' rush attempts, Kansas City ran the ball 20 times on Philly — as opposed to just 12 versus Tampa Bay. Mahomes even rushed for 11 more yards in Super Bowl LVII on only one more carry, with a bum ankle. That Chiefs O-line made it all possible by stepping up and accepting the challenge against the No.1 pass rush in the NFL. Philly led the league with 70 sacks this season and left Arizona with a big goose egg in that category.
Everyone knew one of the quarterbacks would win MVP, regardless of which team won the game. But if a specific unit could win the award, it would've been the Chiefs' offensive line. Mahomes executed a great game plan drawn up by Andy Reid and Eric Bieniemy. In fact, Mahomes played the best overall game of his three Super Bowl appearances. Mr. MVP had four interceptions in the first two Super Bowls and zero in Sunday's contest. He'd thrown just two touchdowns in the first two, and both came against the 49ers in his first trip. Mahomes had three TDs against the Eagles.
Entering the game, it was thought that KC would have a handful blocking Philly's pass rush, and apparently, that doubt was enough to motivate them. The Eagles' d-line dominated almost every offense they faced until the biggest game of the year. KC's O-line deserves all the praise, and then some for putting on a blocking clinic. On top of that, the Chiefs saved us all an earful from that unbearable fan base in Philly.


Original source here

#Chiefs #offensive #line #put #performance #Rihanna