Late on Thursday night, race cars will hit the streets of Las Vegas for the first practice session of the 2023 Las Vegas Grand Prix. The race marks Formula 1's return to Vegas for the first time since the 1980s, so as we prepare for lights out in Sin City, we thought it was time to round up everything you need to know about the race.
Why Wendell Pierce loves Formula 1
What Is The 2023 Las Vegas Grand Prix?
Simply put, it's a motor race on the streets of Las Vegas. The grand prix is the newest race on the Formula 1 calendar, as this year marks its inaugural year. It's been a long time coming, with Formula 1 first confirming its plans for a third U.S. race back in May 2022.
When the lights go out late on Saturday night, the 2023 Las Vegas Grand Prix will mark the sport's third event in Nevada, following the Ceasar's Palace Grand Prix that ran in 1981 and 1982. While the '80s race was held in a casino parking lot, this year's foray is a much more grand affair.
In the buildup to the race, Formula 1 has been constructing a purpose-built paddock complex in Las Vegas, which will remain in situ year-round and could be used as a Formula 1 museum when the race isn't running. The sport has also closed off streets to make the circuit and installed all manner of bridges and walkways to keep access to the city's casinos open during the chaos. It really is quite the circus.
Where Is The 2023 Las Vegas Grand Prix?
Las Vegas, obviously. Specifically it will run on the Las Vegas Strip Circuit, which has been constructed around Las Vegas Boulevard. The 3.85 mile circuit comprises 17 corners and several long, fast straights that lead into heavy braking zones. Over the course of 50 laps, drivers will speed past Vegas landmarks like the Venetian, Caesars Palace and Paris resorts, as well as the Bellagio fountains.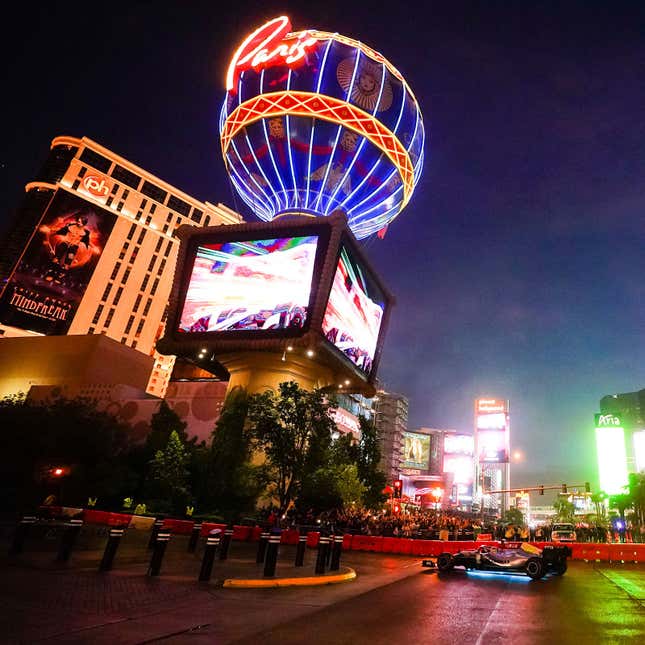 Thanks to its layout, the track is going to be fast, really fast. Many drivers have compared it to Monza thanks to its long straights that are taken at full tilt. While we won't find out the actual time it takes to complete a lap of the track until Thursday, footage shared by Formula 1 earlier this year shows drivers lapping the 3.85 mile circuit in less than one minute 50 seconds and hitting speeds of more than 205 mph. In contrast, the fastest speed recorded at an F1 race so far this year was in Monza, where the Mercedes of Lewis Hamilton was clocked at over 220 mph.
When Is The 2023 Las Vegas Grand Prix?
This weekend! Are you ready? The action in Las Vegas will kick off on Thursday night, with Formula 1 cars first taking to the track for free practice one at 8:30 PM in Las Vegas. For anyone on the east coast, that's 11:30 PM – so it's going to be a weekend of late nights if you want to stay up and watch everything unfold live.
After that, the next big moment will be qualifying. If you want to tune in to see who can take the first pole position in Las Vegas, that all takes place on Friday night at midnight on the dot. Again, that means a late night for east coasters who will have to be up at 3 a.m. to probably see Max Verstappen get pole again.
Finally, the race itself will run on Saturday night under the lights. The formation lap gets under way at 10 p.m. in Las Vegas (1 a.m. Sunday on the east coast), before the cars thunder away from the line for 50 laps of madness. I, for one, cannot wait.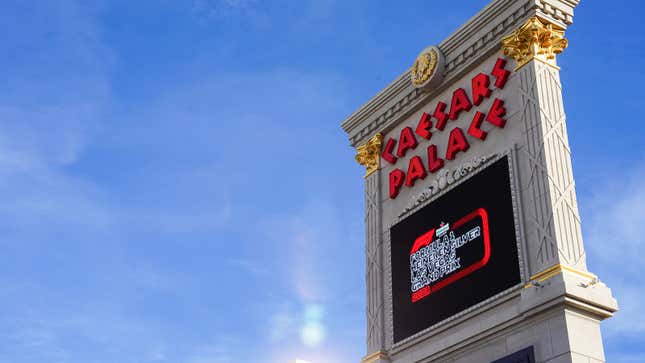 How Can You Watch The 2023 Las Vegas Grand Prix?
As with every Formula 1 race in 2023, you've got a couple of options when it comes to watching this weekend's Vegas Grand Prix. The easiest way to keep up with the action is with an F1TV Pro account, which gives you access to live streams of all the on-track action and a choice of commentary.
If you prefer your sports coverage by other means, then ESPN is your only bet. Practice one will be broadcast on ESPN2 from 8:25 PM on Thursday, with practice two following at 11:55 PM on ESPN. The third practice session runs at 8:25 PM on ESPNU, while qualifying gets underway on ESPN at 11:55 PM. The racing action kicks off at 9:55 PM on Sunday November 19 on ESPN and ESPN+.
What's At Stake?
While Max Verstappen and his Red Bull team have already wrapped up the drivers' and constructors' championship, there are still a few battles worth keeping an eye on over the penultimate race of the Formula 1 season.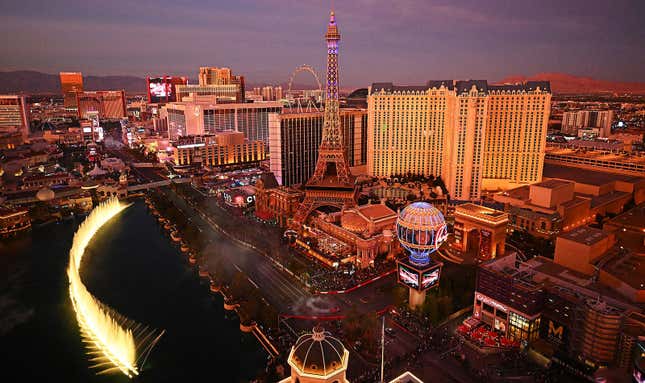 The big one will, obviously, be the race to be the first Las Vegas Grand Prix winner since Michele Alboreto back in 1982. Obviously, Max Verstappen is once again the favorite for this after he dominated at basically every track so far this year. However, steps made by McLaren in recent weeks have helped both Lando Norris and Oscar Piastri onto the podium at recent races, so could they mount a substantial challenge to the dominant Red Bulls? And you'd be a fool to count out Lewis Hamilton or the Ferrari pair of Charles Leclerc and Carlos Sainz, the latter of which is the only non-Red Bull racer to win a grand prix this year.
Then, there's the battle for second place in both the constructors' and drivers' standings. Mercedes racer Hamilton and Red Bull driver Sergio Perez are vying for second place, with just 32 points separating them right now. It's also tight behind them, as Fernando Alonso, Norris and Sainz are separated by just six points! In the teams standings, Mercedes and Ferrari are both within reach of second place, and Aston Martin and McLaren are caught in a close battle for fourth.
Owen Bellwood is an automotive journalist for Jalopnik, , which like Deadspin is owned by G/O Media.


Original source here

#racing #Formula #cars #streets #Las #Vegas #Heres